Ref: T-series
Miniature Piezoelectric Pressure Sensor - 0...500 bar - M3.5x0.35
Miniature high temperature piezoelectric pressure sensor
Dimension : M3.5 x 0.35
Measuring range: 0..300 or 0..500 bar
Output signal: 5.3 pC/bar
Operating temperature: -55 to 400°C (300 bar version) or -55..120 °C (500 bar version)
Non-linearity: < 0.5% of full scale
Overpressure protection: 50 bar
High temperature and time stability
Natural frequency: from 170 kHz
Calibration certificate and 1 m cable included
?
Presentation of the T Series piezoelectric sensors
The T Series piezoelectric pressure sensors integrate the piezoelectric technology of Piezocryst's S Series sensors in the most compact footprint on the market. With a robustness equivalent to the S series, and designed around the same crystal (Gallium phosphate (GaPO4)) developed in-house, they feature excellent measurement quality up to 300 bar (Model T1-A1) resp. 500 bar (Model T1-K1), with a non-linearity of 0.5% from -55°C to 400°C (Model T1-A1) resp. from -55°C to 120°C with a diameter of only 3.5 mm These miniaturized dimensions allow the sensor to be installed in the most demanding applications.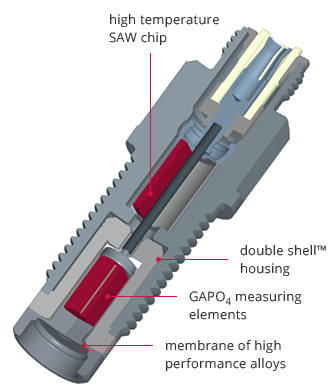 With a bandwidth of several tens of kHz, and a resonance frequency of 170 kHz, these sensors are the reference for the study of very high dynamic phenomena: turbulent flows, combustion.
Applications of T-Series piezoelectric pressure sensors
Any high dynamic application where accurate, robust and repeatable pressure measurement is essential.
Type

Piezoelectric

Measuring Range

< 1 bar, < 100 bar, < 1000 bar

Precision (max error)

0.5 %

Température de fonctionnement

-55 to 400 °C

Sortie analogique

analog (Current)

Application

High temperature

Tension d'alimentation

10 Vcc

Protection Class

IP40