Ref: PMI 520 LVDT
1-channel signal conditionning module for LVDT sensors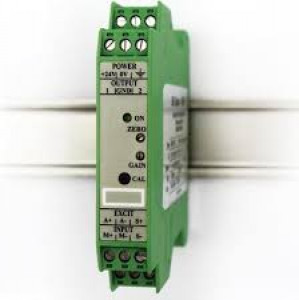 1-channel analog amplifier for LVDT sensors
Method : (A/B) or (A-B)/(A+B)
Voltage supply : 3 V RMS ±10%, 5 kHz ±10%
Input sensitivity : 5 values from 10 mV/V to 3000 mV/V
Gain : 10 mV/V to 3000mV/V
Signal output : ±10V, 4-20mA ,0–20 mA, ±20mA, 0-10V
Operating temperature : -10 à +60°C
?
Presentation
The PMI-520-LVDT modules are conditioning amplifiers for LVDT sensors, which by their very good accuracy (0.05% of full scale), frequency response (Response time: 1.5 ms) and stability, are perfectly suited for industrial use in R&D laboratory, production, or embedded. Two types of demodulations are available:
A/B, PMI-520-LVDT module (698)
(A-B) / (A+B), PMI-520-LVDT module (598). All sensitivity ranges from 10 mV/V to 3000 mV/V are covered by these conditioners: The sensitivities are divided into 5 ranges programmable by jumpers inside the device.
Installation, operation
This card, in DIN format, can easily be installed in an electrical cabinet. The card is supplied with 24VDC, and then supplies the sensor. The type of output signal (voltage or current) is directly proportional to the force/displacement measured by the sensor, and can be set by the user using a jumper. Other parameters can be easily set, again by using jumpers. The connection is made by means of 4 detachable 3-wire terminal blocks.
Applications
Test benches and machines
Machine tools
Electronic type

Signal Conditioning

Input channels

1

Input signal type

LVDT

Analog output signal

4-20 mA, ± 10 VDC

Datalogger

no

Tension d'alimentation

10 Vcc

Protection Class

IP40

Housing

Plastic