Ref: SAS 51
Singleturn Absolute Rotary Encoder - IP67 - CANopen or analog output
Absolute measurement
Measuring range : 0...360°
Précision : ±0,1°
Technology : Hall Effect
50 mm body diameter
6 mm or 8 mm shaft diameter
Maximum speed : 3000 rpm
Analog or CANopen output options
High sensitivity
Voltage input : For Analog: 15 … 26 VDC - For CANopen: 12 … 30 VDC
IP67 Protection class
?
Introduction
The SAS series encoders operate absolute. In other words, unlike the incremental systems, they do not lose their positions in power outages and continue to measure from where they left off.
The SAS series single turn absolute rotary encoders offer highly flexible solutions in use, with different output signals, shaft diameters and user-adjustable measuring range. The SAS single turn absolute rotary encoder with integrated reference provides high quality feedback. With its IP67 high protection class, it is resistant to harsh environmental conditions.
Specifications
| Analog output | CANopen output |
| --- | --- |
| | |
Dimensions
The sensor body is made of stainless steel. The use of a flexible coupling is recommended for the shaft connection. The electrical connection is either a M12 or a cable.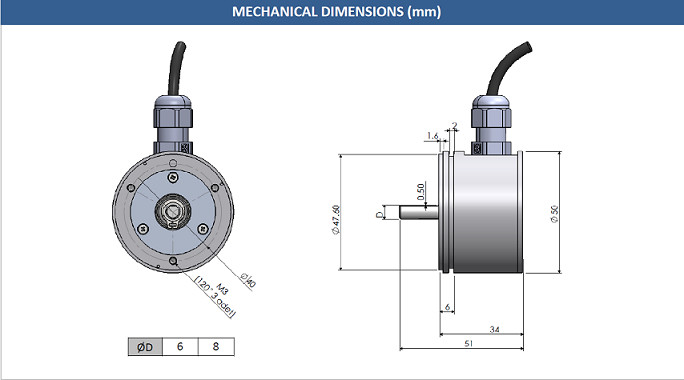 Ordering informations
| Analog output | CANopen output |
| --- | --- |
| | |
Applications
Identifying multi-axis orientation in CNC machines used in component manufacturing
Automatically determine the height of the scissor bearings used in hospitals
Correct placement of multiple stabilizers for large vehicles such as cranes or air lifts
Automatic doors or slots to move without limiting key
Continue robotic movement even after a power failure
Technologie

Rotary position

Measuring range

±0 à ±60°, ≥ ±60°

Etendue de mesure angulaire

160 °

Nonlinearity (% FS)

± 0.25 %

Bande passante (-3 dB)

10000 , 300 Hz

Analog output signal

0-5 VDC

Température de fonctionnement

-40 to 125 °C

Protection Class

IP65, IP67

Tension d'alimentation

10 Vcc

Housing

Steel

Cable

Connector or cable
Dimensions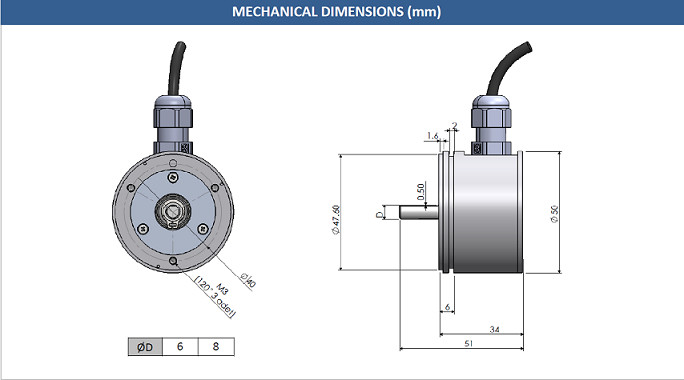 measuring range
Connections
Output signal
Cable extensions
Connector