Client
Industrialist operating several presses in production
Problem
The customer uses presses for the assembly of subsystems. Each press is fitted with 1 compression force sensor, the measurement of which is used to control the applied force.
In order to guarantee the quality of the assembly, the sensors are recalibrated every year. However, this maintenance generates significant costs due to prolonged machine downtime. The customer was looking for a way to check the sensors easily and quickly, so that only NOK sensors could be sent for recalibration.
PMI Solution
Supply of a high precision force measurement chain. The precision sensor is integrated into a small test rig designed by the customer. A force is applied using a manually operated cylinder.
The force is measured simultaneously by the reference sensor and the customer's sensor. The forces are visualised in real time on a PC using a small data acquisition system. The detection of a too important deviation indicates the need for a recalibration.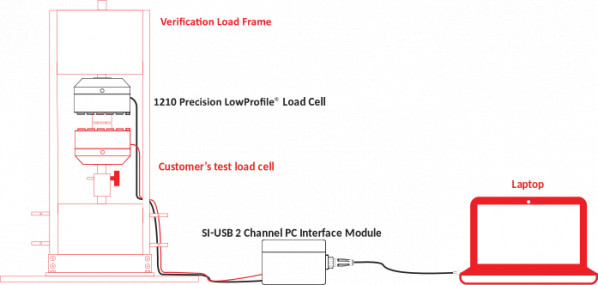 Customer Benefits
Mobile solution - can bring the test bench close to the machine
Over 50% of sensors checked have a nominal response
Verification tests are standardised, with each measurement recorded on the PC
Additional
Possibility to provide the complete test bench. Please contact us.