Ref: F6D80-40 / F6D80-40e
6 axis force/torque transducer - 200 N / 10 Nm to 600N / 30Nm - robotics
type: 6-axis force- torque sensor;
nominal force: Fx, Fy: 100 N, Fz: 200 N / Fx, Fy: 300 N, Fz: 600 N;
nominal torque: Mx, My, Mz: 10 Nm / Mx, My, Mz: 30 Nm;
mounts on robot arm (norm DIN ISO 9409-1)
accuracy class: 1%;
dimensions: Ø80 mm x 40 mm;
circle: Ø40 mm;
mounting and centering: 4 x inner thread M6x1, 2 drill hole Ø6 mm H7;
Connection: integrated circular connector (MP11), 24-pin, male;
material: aluminium alloy;
drawing is sent on request
?
Presentation
The multi-component sensor F6D80-40 is used for force and torque measurement in three mutually perpendicular axes. The multi-component sensor F6D80-40 is equipped with fastening flanges according to DIN EN ISO 9409-1 for industrial robots. The measuring flange of the sensor contains 4 tapped holes M6 on the same pitch circle. The F6D80-40 force / torque sensor can be mounted to the robot flange without additional adapters, making it particularly flat and light compared to the K6D series sensors. The sensors are made of an aluminum alloy.
Application
The multi-component force sensor is very well suited for use in robotics, e.g.
For collision detection
"Teach-In" Collision detection
Force or torque-controlled operation
Signal conditioning
The force and torque loadings are evaluated e.g. using a GSV-8DS measurement amplifier.
Type

load cells

Number of Axis

6 Axis

Precision (max error)

1 %

Nonlinearity (% FS)

± 0.1 %

Hysteresis

0.1 % FS

Température de fonctionnement

-10 to 85 °C

Analog output signal

non-amplifié

Output Signal

0.4 mV/V

Tension d'alimentation

5 Vcc

Measurement direction

Traction & Compress.

Housing

Aluminium

Protection Class

IP64

Measuring Range (Force)

⩽ 1 kN

Application

OEM, Robotics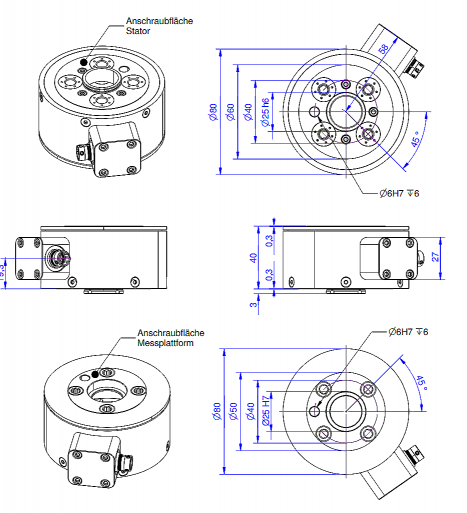 Calibration custom, ISO-17025
Temperature compensated calibration
TEDS