Ref: K3R70 - Fz+Mxy - Ø70 - 100N - 1Nm
Force transducer + torque 100 N / 1 Nm- IP66 - compact - low cost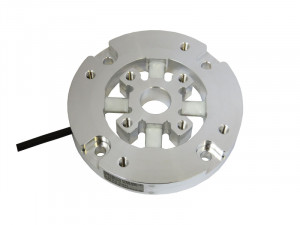 3 axis force+torque sensor
Fz measuring range: ±20N, ±50N, ±100N
Measuring range Mxy: ±0.2Nm, ±0.5Nm, ±1Nm
Accuracy: 0.1%.
Output signal: 1mV/V
Dimensions: Ø 70 mm x 12 mm
Bore: 12 mm H7
Mounting via 8 threads M46, diameter 50 and 100
Material: Aluminium IP66
Calibration: Traction and Compression
Connection: 10-wire cable 3m 24-10 PUR
?
Introduction
The 3-component sensor K3R70 is a simple, accurate and affordable solution for the measurement of the force Fz, and the moments Mx/My simultaneously, in a minimal space (thickness: 12 mm).
The K3R70 sensor consists of an outer ring, integral with the frame, and an inner ring, integral with the specimen, connected by 4 instrumented beams with a complete strain gage bridge. A 12 mm diameter bore allows the passage of a shaft, an electrical or hydraulic connector.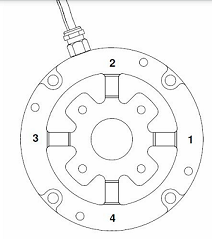 The K3R70 can also be used as a 3-axis force transducer Fx/Fy/Fz, by dividing the torque values by the distance between the transducer center and the point of introduction of the forces when this one is known.

Specifications
3 versions are available, with force measurement ranges between ±20N and ±100N, and torque measurement ranges between ±0.2Nm and ±1Nm. The accuracy is 0.1%.
| Model | Fz [N] | Mx, My [Nm] | Material | Plan |
| --- | --- | --- | --- | --- |
| K3R70_20N_200mNm | 20 | 0,2 | Aluminium | Plan |
| K3R70_50N_500mNm | 50 | 0,5 | Aluminium | Plan |
| K3R70_100N_1Nm | 100 | 1 | Aluminium | Plan |
Installation
The 3-component load cell K3R70 is easily installed on machine tools, arms, or test benches. The introduction of the forces and the fixing to the bench are carried out by 2 x 4 M4 tappings (inner circle: 36mm, outer circle: 58mm) + 4 centering pins Ø4,2 mm.
The sensor is supplied with 5 VDC. The operating temperature range is -10 to 85°C. The output signal is not amplified. The sensor is delivered with a 3m cable.
Conditioning, Acquisition, Use of the decoupling matrix
The force vector L [Fz; Mx. My] is obtained by applying a matrix A to the 4 output signals U of the K3R70. The decoupling matrix A, with 12 terms, is identified during the calibration and specific with the sensor.
| A | Ch 1 | Ch 2 | Ch 3 | Ch 4 |
| --- | --- | --- | --- | --- |
| Fz | a11 [N/mV/V] | a12 [N/mV/V] | a13 [N/mV/V] | a14 [N/mV/V] |
| Mx | a21 [Nm/mV/V] | a22 [Nm/mV/V] | a23 [Nm/mV/V] | a24 [Nm/mV/V] |
| My | a31 [Nm/mV/V] | a32 [Nm/mV/V] | a33 [Nm/mV/V] | a34 [Nm/mV/V] |
We recommend the following modules for signal conditioning and acquisition:
The visualization and acquisition software included with these modules (GSV-multi) has the ability to apply the A decoupling matrix on the output signals of the K3R70, allowing direct acquisition of real forces.
Applications
Robotics
Production
Quality control
Load measurement in medicine, prosthetics, orthopedic engineering or gait analysis
Measurement in sports medicine
Comfort / ergonomics measurements
Type

beam sensor

Moment capacity

1 Nm

Number of Axis

3 Axis

Precision (max error)

≤ 0.1 %

Tension d'alimentation

10 Vcc

Measurement direction

Traction & Compress.

Housing

Aluminium

Protection Class

IP66

Measuring Range (Force)

⩽ 1 kN

Application

High Accuracy, OEM, low cost
Connector on cable for acquisition
Extended temperature compensation
Electronic conditioning and acquisition
Connector output on request
TEDS module
Calibration option
Optimization of the sensor accuracy
Increase of the accuracy class.
Conditioning electronics
Display
Specific wiring