Ref: KD-5100+
Position measurement system for telescope and satellite mirrors - 3nm resolution
Dual channel signal conditioner with two precisely matched sensors per channel
Measuring range : ± 0.9 or ± 1.9mm
Resolution at 1 kHz: 3,3 nm
non-linearity: ±0.1% to ±0.5% FSO (application dependent)
Long-term stability (21°C): 1.27 x 10-4 mm/month
Bandwidth : 0-22kHz
Suitable for vacuum applications
Radiation tolerant
Input voltage : ±15 Vdc @ 55 mA typical
Operating temperature: -52°C to +105°C (Sensor), -20°C to +60°C (electronics)
Introduction
The KD-5100+ is a non-contact differential displacement measurement system of very high accuracy for high speed mirrors. The measurement is based on the use of two identical eddy current sensors positioned on either side of the mirror, and connected to a remote electronics. When the actuators drive the mirror in rotation around its central axis, the mirror moves away from one sensor and approaches the other sensor by an equal distance. The displacement of the mirror from the reference position generates an electrical signal reflecting the change, without any noise and without the need to sum the signals.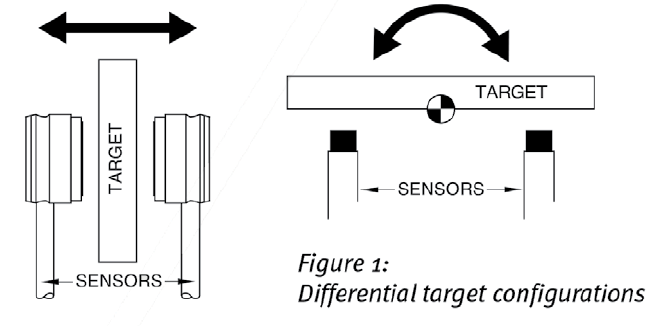 By precisely pairing the sensors, the KD-5100+ can measure position variations with very high accuracy (0.1% to 0.5% of the measurement range), resolution (3 nm), and bandwidth (0-20 kHz) over ranges from +/- 900µm to +/- 1.9mm. The measurement signal is then used to actively control the mirror position.
It can be used in cryogenic conditions or under a vacuum of 10-6 torr.
Setup
The system consists of an eddy current transducer (or probe), and a remote electronics for powering the transducer, and conditioning the response. The KD-5100+ can be equipped with the KN15 or KN20, and provides a voltage +/- 10V perfectly linear with the displacement.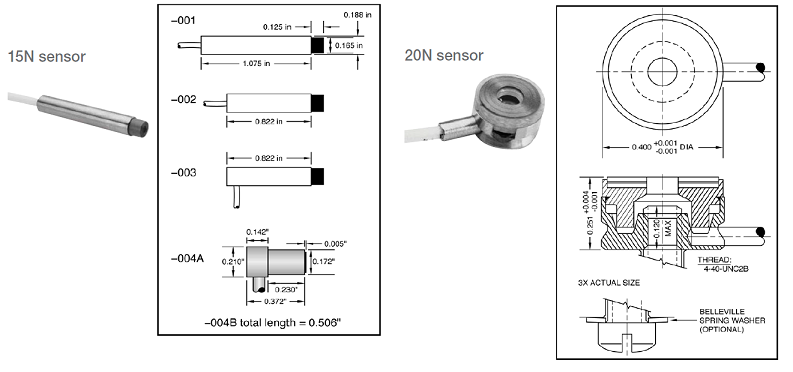 Applications
Laser Communications
Satellites and Ground Stations
Directed Energy: Ground, Shipboard, and Airborne
Image Stabilization Systems
Technologie

Eddy Current

Etendue de mesure linéaire

0.9 / 1.9 mm

Measuring range

0 à ±50 mm

Nonlinearity (% FS)

± 0.1 %

Bande passante (-3 dB)

20000 Hz

Analog output signal

0-5 VDC

Température de fonctionnement

-52 to 105 °C

Protection Class

IP40, IP67

Tension d'alimentation

10 Vcc

Housing

Steel

Application

High Accuracy, OEM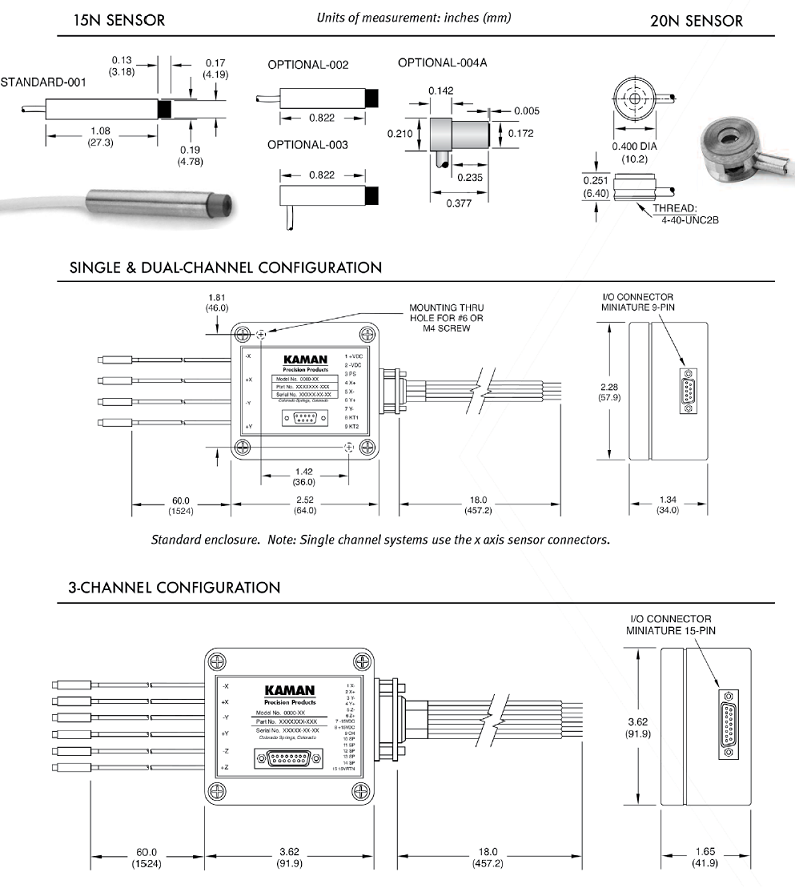 Many options are available to customize a standard system to meet the exact needs of the application. The most popular are:
SENSOR CABLES
Sensor cable extension Most sensors can handle longer cable lengths, although increasing the cable length can and will affect some performance specifications. Shorter than standard cable lengths are also available. Call an apps engineer to discuss your particular requirements.
In-line cable connector splice
Many sensors come with integral sensor cables. Routing this cable in some applications is difficult and something you only want to do once. Including an in-line connector splice in the cable, near the sensor itself, allows for easy sensor replacement should the need arise.
Hermetic in-line connector splice
Some applications pass the sensor through a pressure boundary, most commonly a vacuum chamber wall. We offer an in-line hermetic bulkhead splice for these applications.
SPECIAL CALIBRATIONS
Range
Standard published ranges are based on meeting a set of performance specs. Custom calibrations are possible to meet specific application needs. Contact a Kaman applications engineer if a custom calibration is desired.
Target material
Unless otherwise specified, nonferrous systems will be calibrated with an aluminum target. If your target material is significantly different in conductivity and/or permeability it may be best to calibrate using the same material as your target.
Power supply unit
Calibration fixture
Product training